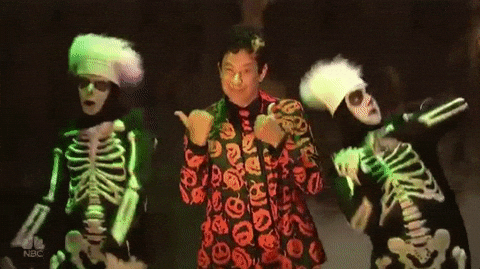 Happy Friday, everyone! We're finally at the end of the week and Halloween is just around the corner. For me, Halloween isn't a big deal. I don't like dressing up and going to parties. I like staying home and getting in on that 50% off candy the next day.
However, I do like celebrating the occasion with some Halloween-y treats, some not-so-scary Halloween movies, and of course a few reads. While I won't be reading these books during the Halloween weekend, I'm going to include my all-time favorite horror reads. They're pretty old, but I like to go old school every once in a while.
Happy Friday and have some great and safe Halloween fun!
Start off your day by first watching David S. Pumpkins
It legit isn't Halloween for me until I watch David S. Pumpkins. This was an SNL skit done a few years back where Tom Hanks dressed up as a ridiculous Halloween character on a scary elevator ride. Of course, he's not scary at all but the hilarity does ensue.
Also watch Jeffree Star turn into He-Who-Must-Not-Be-Named
Maybe there's a lot of videos in this Currently Loving blog post, but it's also Friday. This is a particularly long one because it's Jeffree Star going into full prosthetics to look like Voldemort. Apologies if you're not a fan of his, but he's most definitely one of my guilty pleasures
Enjoy reading or watching Rosemary's Baby by Ira Levin
Rosemary's Baby was probably the first horror book I picked up when I was a kid. It's one of my prized reader possessions and the movie is definitely up there with the creepy factor. Imagine that you and your husband move into a new building only to find out that it's inhabited by devil worshippers. Then you find out that you're pregnant, but with the devil's baby. What do you do? It's a quick read, so you can probably get through it this weekend. It's also scary as heck!
If you want to spook yourself, try Hellbound Heart by Clive Barker
You may be acquainted with the name. If not, then you may have heard of Pinhead and his associates.
If you are, then you know that Clive Barker is the creator of the Hellraiser series, probably one of the scariest things I've ever watched in my life. Hellbound Heart is the book that the movies are based off of. It's about a young man who comes across an interesting puzzle box. As he opens the box, he finds that it opens a portal to Hell. Monsters of unspeakable violence and torture appear hoping to find themselves someone to play with. It's incredibly spooky and perfect for this Halloween weekend.
Make yourself a batch of rice krispie treats
When I'm in the mood for a sweet snack and it's Halloween time, I always turn to rice krispie treats. I don't know something to do with Halloween and these treats always makes me happy. I like to change up the cereal and use Fruity Pebbles or Chocolate Pebbles. You can also make them as spooky as you want, but I'm a lazy person and I just like to eat the bars.
It isn't Halloween until you watch Hocus Pocus
An iconic movie of my childhood and many childhoods alike, I absolutely love watching Hocus Pocus during the Halloween season. Granted, there are others (Nightmare Before Christmas, Practical Magic), this by far is my favorite. I've already watched it a couple of times on Freeform, but you can also watch it on your own on Hulu (it's available right now!)