I just shared my thoughts with a friend and my review went basically like this: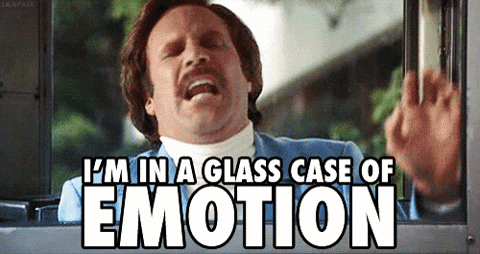 Now, I'm not usually the type to express my emotions through gifs, but I'm making an exception for this book. Thanks to Penguin Teen for a gifted copy of this book.
Lahore, Pakistan. Then.
Misbah is a dreamer and storyteller, newly married to Toufiq in an arranged match. After their young life is shaken by tragedy, they come to the United States and open the Cloud's Rest Inn Motel, hoping for a new start.

Juniper, California. Now.
Salahudin and Noor are more than best friends; they are family. Growing up as outcasts in the small desert town of Juniper, California, they understand each other the way no one else does. Until The Fight, which destroys their bond with the swift fury of a star exploding.

Now, Sal scrambles to run the family motel as his mother Misbah's health fails and his grieving father loses himself to alcoholism. Noor, meanwhile, walks a harrowing tightrope: working at her wrathful uncle's liquor store while hiding the fact that she's applying to college so she can escape him—and Juniper—forever.

When Sal's attempts to save the motel spiral out of control, he and Noor must ask themselves what friendship is worth—and what it takes to defeat the monsters in their pasts and the ones in their midst.

From one of today's most cherished and bestselling young adult authors comes a breathtaking novel of young love, old regrets, and forgiveness—one that's both tragic and poignant in its tender ferocity.
Find it on Amazon | Find it on Bookshop.org
My thoughts
I didn't know what to expect when I started reading this book, but I didn't expect what came from it. A story about two young people who are thrown into the mix of adulthood, parents who don't act like parents, and that gnawing feeling that you have to do something because who else will? There's so much to unpack in this story and it doesn't read like your typical YA contemporary story. I honestly think Sabaa Tahir's outdone herself with this one.
Sal (short for Salahuddin) is a young guy who's mother is really sick and his father drinks too much. They own the Cloud's Rest Inn Motel, but with his mother's illness and his father's drinking there isn't much of a hotel left. Noor is an immigrant from Pakistan living with her uncle. While things seem normal on the surface, Noor's uncle doesn't like her speaking in Urdu or Punjabi. He doesn't like her going to the local mosque. He doesn't want her to go to college.
On top of all that, Noor told Sal how much she loved him and he didn't say anything.
The story is told in dual perspectives and dual timelines. The timelines are about Sal's familiy and how they made their way to the US and the events leading up to the present day. I really loved the dual perspectives and the timeline for this book. You get this sense there's a lot of secrets shrouded in their past and as you read the book, these secrets slowly reveal themselves. You get a better understanding of why things have turned out so wrong for both Noor and Sal.
There's a lot of complicated emotions happening in this book. Love, loss, hope, grief, pain, sadness, and happiness are all prevalent throughout the pages. Most of the time, I just wanted to reach into the book and hug both Sal and Noor and tell them it's going to be alright. The book constantly pushes Noor and Sal into situations that require them to grow up much faster than they need to. It's one of those stories where the adults in their lives have failed them and they feel obligated to take matters into their own hands.
Of course, they're young. They're still in high school with a huge future ahead of them, so when you see the kinds of decisions they make you definitely feel a sense of regret for them. You want them to make "good" decisions, but then you remember that they're just kids and they're trying to do their best without much help from the adults in their lives. It will definitely complicate you and in good Sabaa Tahir fashion, you'll never see the ending coming.
Overall, this was such a great read filled with tons of heart, lots of emotion, and a real test of what Sabaa Tahir can do with a contemporary story. I loved reading every minute of it.